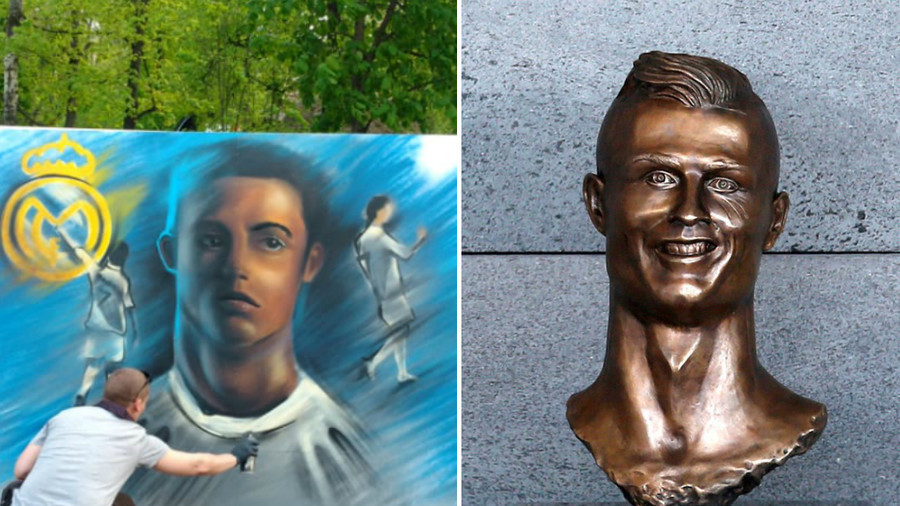 A graffiti portrait of Cristiano Ronaldo in Moscow's Sokolniki Park has raised eyebrows about its likeness to the Real Madrid star, after social media users mocked his appearance, even comparing it to his infamous aiport bust.
The mock-up of wing wizard Ronaldo was part of the Russian capital's 10th annual 'Multicolored Moscow' festival, which was this year dedicated to the World Cup 2018 this summer.
Aside from the festival's breakdance and streetball competitions, there were graffiti artists showing off their skills with portraits of the world's elite footballers with one dedicated to the five-time Ballon d'Or winner. But the cross-eyed portrait has raised eyebrows among Twitter users who have slated the picture of the Portuguese player online.
Graffiti in Moscow's Sokolniki Park, Isco, Cristiano Ronaldo and Aleksandr Kokorin on show to celebrate #Russia2018 Anyone else think the guy doing Ronaldo is friends with the sculptor from Madeira Airport? pic.twitter.com/qxyjhiuQl4

— Danny Armstrong (@DannyWArmstrong) May 15, 2018
Once social media user likened the portrait to The Simpsons' Mr Burns' appearance in the episode 'The Springfield Files', in which the character undergoes treatment which leaves him looking like a green-glowing alien.
Ronaldo is sixteen? 😉

— Mateusz Drygas (@MDrygi) May 15, 2018
It is not the first time Ronaldo has been the subject of artwork bearing a questionable likeness to him. Who could forget the bust unveiled last year to mark the airport on Madeira, the island from which Ronaldo hails, being renamed in his honor?
Aside from Ronaldo's sketchy portrayal, Twitter users also criticized the artists' decision to depict Russian striker Aleksandr Kokorin in a Dynamo Moscow jersey, despite him having played for Zenit St. Petersburg since 2016.
Kokorin is the Dynamo guy??

— Gharbieh (@Gharbieh) May 15, 2018
Perhaps the pick of the bunch was the portrait of Ronaldo's teammate Isco. Spain playmaker Isco was portrayed rather favorably in the famous red kit of 'La Roja'. Ronaldo and Isco will be on opposing sides at Russia 2018 when they play in Sochi on June 15.
Fortunately, for the 2017 Confederations Cup last summer, Ronaldo was greeted by a slightly more accurate artwork upon arrival in Kazan, Russia.
He was greeted in the city, that hosted European champions Portugal's first game in the tournament, with a multicolored mural adorning the side of a Kazan hotel which depicted the striker's famous wink after Wayne Rooney's red card in the match v England at World Cup 2006.