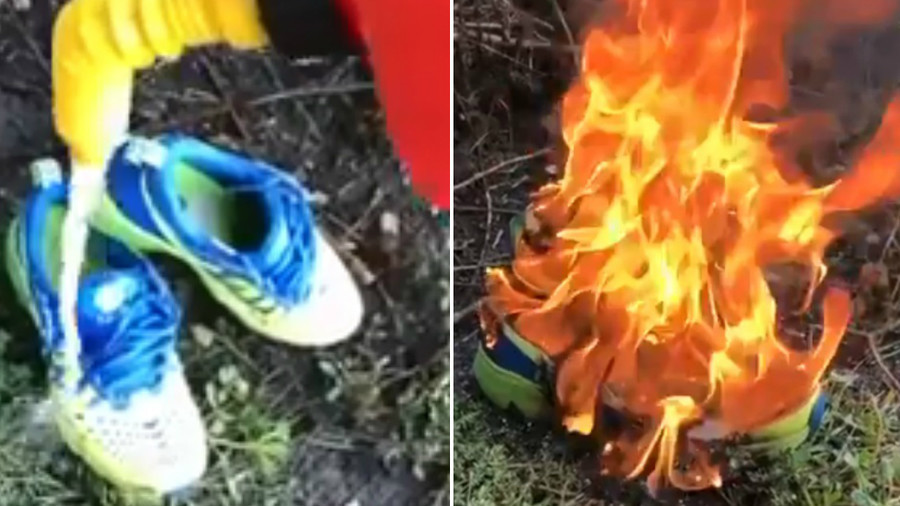 Furious Nike customers have been venting their anger over the company's decision to use NFL player Colin Kaepernick as the face of its new advertising campaign.
The step to use former San Francisco 49ers quarterback Kaepernick – who began the controversial 'take a knee' anthem protests at perceived social injustice in the US – was announced by Nike on Monday.
READ MORE: Ex-Iran President Ahmadinejad backs NFL outcast Kaepernick
While the move was met with widespread praise, it was also greeted with anger by many who see the Kaepernick-initiated protests as disrespectful to the US flag.
Some angry customers posted footage of them burning or destroying Nike sports gear, alongside the hashtags #JustBurnIt and #BoycottNike.
First the @NFL forces me to choose between my favorite sport and my country. I chose country. Then @Nike forces me to choose between my favorite shoes and my country. Since when did the American Flag and the National Anthem become offensive? pic.twitter.com/4CVQdTHUH4

— Sean Clancy (@sclancy79) September 3, 2018
.@Nike how you going to endorse @Kaepernick7 a person that advertises socks with cops portrayed as pigs, a person that hasn't played NFL for 2 years, well it's good I never really spent money on your brand but to the money I did, here they are pic.twitter.com/oHFVgDnR4K

— Sebastian Blanco (@thasaviorBlanco) September 3, 2018
Nike's move to use Kaepernick as the face of its new campaign was revealed on Monday, in celebration of 30 years of the company's 'Just Do It' slogan.
Despite the fiery protests, many hailed the step for helping to promote the causes pursued by Kaepernick.
Colin Kaepernick drew our collective attention to the problem of continued racial injustice in America. He did so not to disrespect our flag but to give meaning to the words of the preamble of our Constitution—"in order to form a more perfect union." Well done, Colin, well done. https://t.co/4ALyUxLjM5

— John O. Brennan (@JohnBrennan) September 4, 2018
Kaepernick has been without a club since opting out of his contract with the 49ers in March of last year.
READ MORE: Kaepernick collusion case against NFL cleared to go to trial
He is currently pursuing a case against NFL owners over alleged collusion not to sign him due to his social activism.