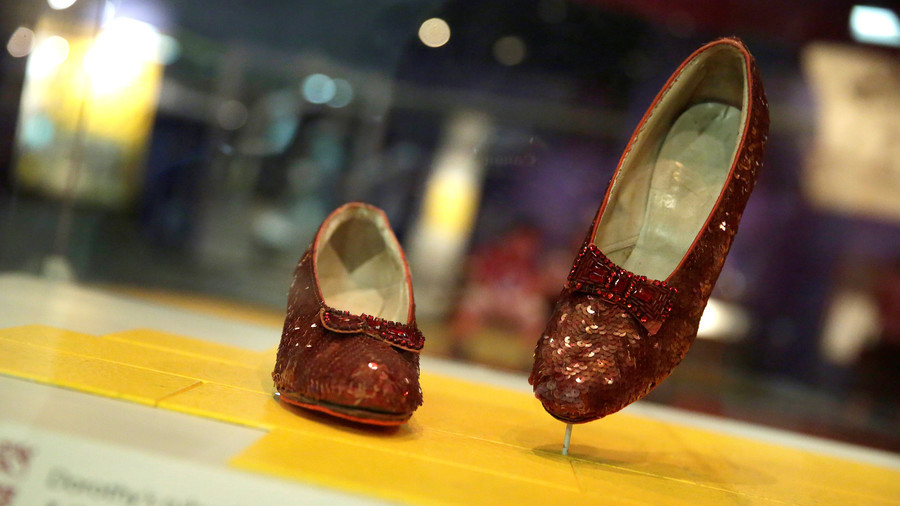 The iconic sparkling ruby red slippers worn by Judy Garland in the 1939 movie 'Wizard of Oz' have been uncovered after being stolen more than 13 years ago.
The FBI is set to announce details behind the recovery of the sequined shoes at a press conference at its Minneapolis headquarters Tuesday.
The iconic sparkling footwear were stolen from the Judy Garland Museum in Grand Rapids, Minnesota in 2005. A thief broke in and smashed their Plexiglas display case, leaving no fingerprints behind, just a single sequin.
The shoes were key to the Wizard of Oz storyline, and held the power to return Dorothy to Kansas from Oz once she tapped the heels together three times while repeating the line, "There's no place like home."
The pair was insured for $ 1 million, and a $ 250,000 reward was offered by the authorities for their return. A fan offered a $ 1 million reward for a short period before the 10-year anniversary of the robbery, but no-one came forward.
According to the Grand Rapids Police Department, Detective Brian Mattson received a tip in 2017 which brought the search outside the state. The FBI then took over and the the shoes were recovered in Minneapolis, Grand Rapids Herald Review reports.
"The exact details of the investigation are not being released at this time as this remains an active investigation," Sergeant Robert Stein said.
READ MORE: Supervillains suspected as $ 325k Iron Man suit disappears from Hollywood warehouse
"When the slippers were snatched in that early morning burglary, the thief not only took the slippers but also a piece of history that will be forever connected to Grand Rapids and one of our city's most famous children," Police Chief Scott Johnson said.
"We knew this day would eventually come and we are grateful to the FBI and all those that worked so hard to bring this piece of cinematic treasure out of the shadows and into the light."
The slippers were actually one of four pairs made for the movie that are known to exist. One pair was bought by Leonardo DiCaprio and Steven Spielberg, who displayed them at the Academy Museum of Motion Pictures, while another pair reside at the Smithsonian. The final pair are owned by a private collector.
Like this story? Share it with a friend!