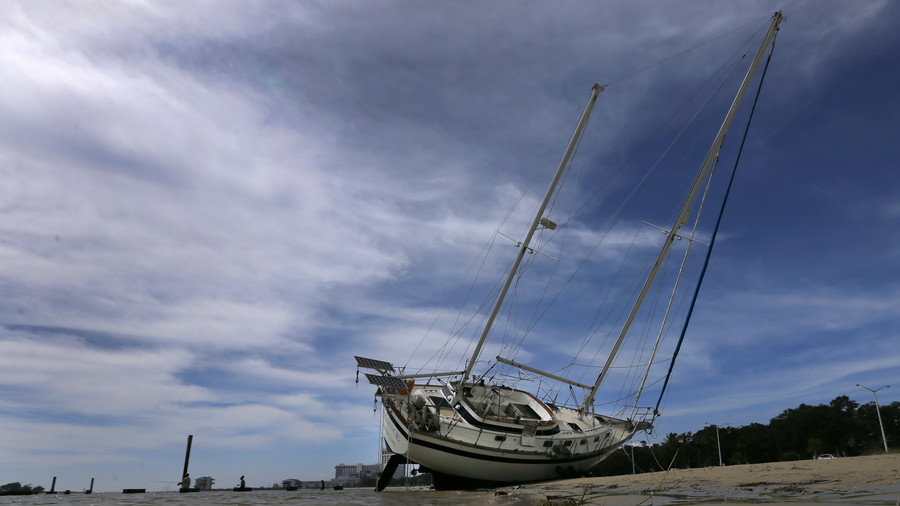 The Gulf Coast states, still suffering the after-effects of the 2017 hurricane season, are being warned to prepare for heavy rainfall and powerful winds courtesy of Potential Tropical Cyclone Seven.
The National Hurricane Center (NHC) issued a Tropical Storm watch for the northern Gulf Coast Sunday – from the Alabama-Florida border as far as Morgan City, Louisiana. Last year's hurricane season battered the southern US states and Puerto Rico, killing thousands and causing hundreds of billions of dollars' worth of damage.
READ MORE: Puerto Rico raises death toll of Hurricane Maria to 2,975 from initial 64
As much as eight inches (20cm) of rain is expected to fall overnight and Potential Tropical Cyclone Seven is expected to increase in strength, first becoming a Tropical Depression and later a tropical storm on Monday night. The storm is moving at a speed of 15mph with maximum sustained winds of approximately 30mph and stronger gusts.
An Air Force Reserve reconnaissance aircraft will be deployed Monday evening to investigate how the system is developing and whether it does indeed evolve into a tropical storm. Should this occur it will be renamed Tropical Storm Gordon, reports the Weather Channel.
In an online statement, Florida Governor Rick Scott advised citizens to stay vigilant and be prepared.
Floridians and our visitors should remain vigilant, listen to local news reports & follow @FLSERT for the latest information. With the peak of hurricane season upon us, now is the time to get prepared. Make sure that you and your family have a plan in place in case of disaster. https://t.co/Hldmtnyben

— Rick Scott (@FLGovScott) September 2, 2018
Louisiana Governor John Bel Edwards followed suit, activating the state's Crisis Action Team and advising citizens to prepare their disaster plans and have all the necessary medications and supplies they need. For Louisiana residents, the shadow of Hurricane Katrina still looms large.
Today, we remember the thousands of lives lost during the most tragic and monumental natural disaster in our state's history. Thirteen years ago, Louisiana looked in the face of tragedy and destruction. Today, we are more resilient and hopeful than ever. #HurricaneKatrina#lagovpic.twitter.com/uYclIBYeeW

— John Bel Edwards (@LouisianaGov) August 29, 2018
Think your friends would be interested? Share this story!